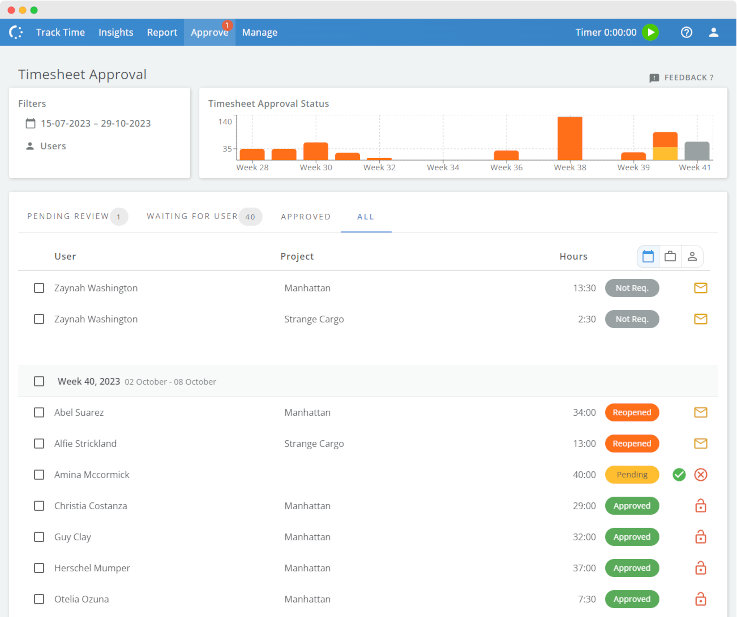 Revamped Approval Feature
We are thrilled to introduce eHour's newly revamped approval feature, designed for speed and efficiency. While we can't promise to make the process more fun, we've certainly made it a whole lot easier and more efficient!
Here's a look at what's new in this feature update:
Bulk Approvals & Rejections: Say goodbye to the hassle of individually approving or rejecting timesheets. With our new bulk approval and rejection feature, you can now process timesheets en masse. This not only saves you valuable time but also streamlines the approval process, ensuring that your team can move forward with ease.

Richer Review Data: Informed decisions are key to effective project management, and our revamped approval feature provides you with all the information you need. With access to project data, including cumulative revenue, remaining budgets, and more, you can make well-informed approval decisions. The detailed view offers a comprehensive overview, making sure nothing slips through the cracks.

Easily Remind Users: Keeping your team on track has never been easier. You can now send quick reminders to users who have yet to submit their timesheets for approval. This feature ensures that deadlines are met, and everyone stays accountable, promoting a more organized and efficient workflow.

New User Interface: We've completely overhauled the user interface. You can now group timesheets by date, project, or user, giving you more control and flexibility. With filters for dates and users, this updated interface is notably faster and more intuitive to work with compared to its predecessor.
eHour's revamped approval feature simplifies the process, provides you with richer project data for better decisions, helps you keep your team on track, and offers an improved user interface for a more seamless experience.
Check out our updated documentation for a step-by-step guide on how to make the most of these exciting enhancements. We're committed to making your time tracking and project management tasks easier and more efficient than ever before!