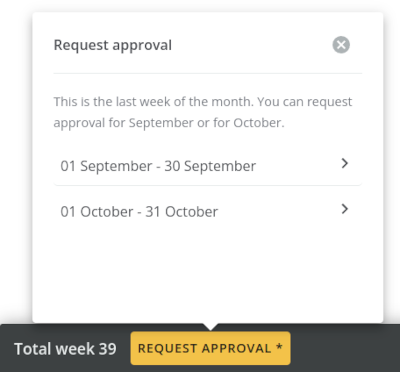 The approval system is improved:
It's now possible to split the last week of the month into two separate approvals.
For example, May 2022 ends on Tuesday the 31st of May. If you want to run a report on all approved hours for May, you may need to wait until Friday the 3rd of June before users send in their weekly timesheet for approval.
With the split approval function enabled, users can request approval on Tuesday the 31st of May for the last days of May and on Friday for the remaining days of the week.
Requesting approval for a particular month was inelegant when the week you were viewing spanned two months. eHour tried to guess which month you wanted to submit and sometimes guessed wrong. You can now select the month you want to send in for approval without navigating to a different week and requesting it again.
The approval workflow can be customized for each user. For example, when the system-wide workflow is to have timesheets approved by the project manager, you can have the project managers' timesheets reviewed by their line manager.
The approval workflow can also be disabled for a user, approving the timesheet automatically.